If you decide to major in Computer Science, it might be one of the best decisions you ever make. As of June 2019, there are over 700,000 unfilled jobs in the tech industry in the United States, according to CNBC. There simply aren't enough qualified people. In order to be one of these qualified people, you need a Computer Science degree. If you want a Computer Science degree, this gear will certainly help you along the way.
Consider it an investment. The average starting salary of Computer Science majors in 2018 was just over $66,000 according to SIA and can quickly climb to over $100,000 depending on the position, company, job location, and other factors. Not only do prospective career options look fantastic, but if you've been bitten by the entrepreneurial bug, Computer Science is still the right choice for you.
Whatever your reason is for studying Computer Science be it job stability, high earning potential, the thrill of solving problems, or the pride of knowing you're changing the world, these are twenty things that will help you along the way. Some of them are necessities, while others will simply make your life much easier. Here's a list of the best gear for Computer Science students.
1. A Laptop
If you're majoring in Computer Science, you absolutely need a laptop. The problem is that knowing which one to pick can be tricky. You're going to want something that will have all the capabilities you'll need for your classes through your undergrad. And if you're anything like me you'll want something that won't break the bank. Here are three great options in different price ranges.
Chromebook (Chrome OS)
Chromebooks aren't really laptops. Unlike a Windows or Mac, you can't install applications. Rather, it relies on web-based applications and Chrome extensions for functionality outside of web-browsing. That said, there is still so much you can do with a Chromebook. I personally manage my whole life with Google Docs, Google Calendar, Gmail, and the whole Google suite. You can even write code and markup language using Notepad++.
I use the Asus Flip Chromebook. It's touch-screen, doubles as a tablet, and has never given me issues. You can check out the current price on Amazon here:
I personally use a Chromebook in lieu of a Windows or Mac and it works great for me, but there are drawbacks. This is the least expensive option as far as laptops go, but it won't be able to do everything you need. If you decide to get a Chromebook, you will also need a home PC to run all the applications that your Chromebook can't, such as Dr. Java, Codeblocks, etc. If you opt for the home PC, you should definitely consider dual monitors at #14 on this list.
Windows (Windows OS)
For right around $500, you can have a great laptop with all the functionality you'll need to get you through 4 long years of undergrad. There are three main things you want to look for in the laptop that you choose:
Memory: 8GB (or more)
Processor: Intel i5 (or higher)
Battery Life: 8+ hours
There are many devices that fit the bill, but the Acer Aspire 5 has everything you need in one sleek, inexpensive package. You can check the price and the specs of the Acer Aspire 5 on Amazon here:
This particular version has, in addition to 8GB RAM, an i5 processor, and up to 9.5 hours of battery life (check, check, and check). It also has a backlit keyboard, Windows 10, and a fingerprint scanner for maximum security.
Mac (macOS)
Macs are certainly more expensive, but for good reason. They are brilliantly designed machines, inside and out. It's no wonder they're a favorite when it comes to learning all aspects of Computer Science. You can easily spend more than $1,000 on a Mac, however, the Macbook Air is the less expensive option that still delivers. You can check the price on Amazon here:
This 13-inch Macbook Air has 8GB RAM, an i5 processor, and up to 12 hours of battery life. You'll be able to do everything you need to do and you'll be able to do it quickly, reliably, and stylishly.
2. Amazon Student Prime
This may not be a necessity, but it certainly makes your life easier if you have it. If you don't have it, you can get a 6-month free trial to Amazon Prime Student to test it out. You can learn more about it and sign up for your 6-month trial here:
Amazon Prime Student 6-month Trial
You get so much with Amazon Prime Student. The biggest plus, in my opinion, is the standard 2-day shipping on virtually everything in the Amazon store. It's perfect for Christmas shopping and back to school shopping. You also get unlimited photo storage with Prime Photos, unlimited streaming of T.V. shows and movies, and plenty of deals that are exclusive to students with Prime. You can even sign up to sample products for free!
3. Blue Light Blocking Glasses
Blue-light blocking glasses are a must-have if you spend more than a few hours a day looking at screens. All that screen-time puts a lot of strain on your eyes. These Gamma Ray blue blockers have consistently good product reviews on Amazon and they look great. Just keep in mind that the 'size' they refer to is a zoom. I highly recommend you get '0.00', or no zoom. You can check out the price or some other styles here:
Gamma Ray: Blue Light Blocking Glasses
The blue light emitted from screens can disrupt our sleeping patterns, strain and dry our eyes, and cause visual fatigue. This light comes from our cell phones, computers, and T.V.s. If you've ever found yourself laying in bed, watching T.V., unable to fall asleep, you can attribute it, at least partially, to the blue light emitted. Here's what happens when you wear blue-blocking glasses for a week.
EDIT: I finally got a pair of these for Christmas from my Fiance (I proposed Christmas Eve!). I'm on the computer for sometimes 12 hours a day between school and working on this site. Long days like that would always end in a headache but I haven't had a single headache since using these. Plus I feel like I look smarter!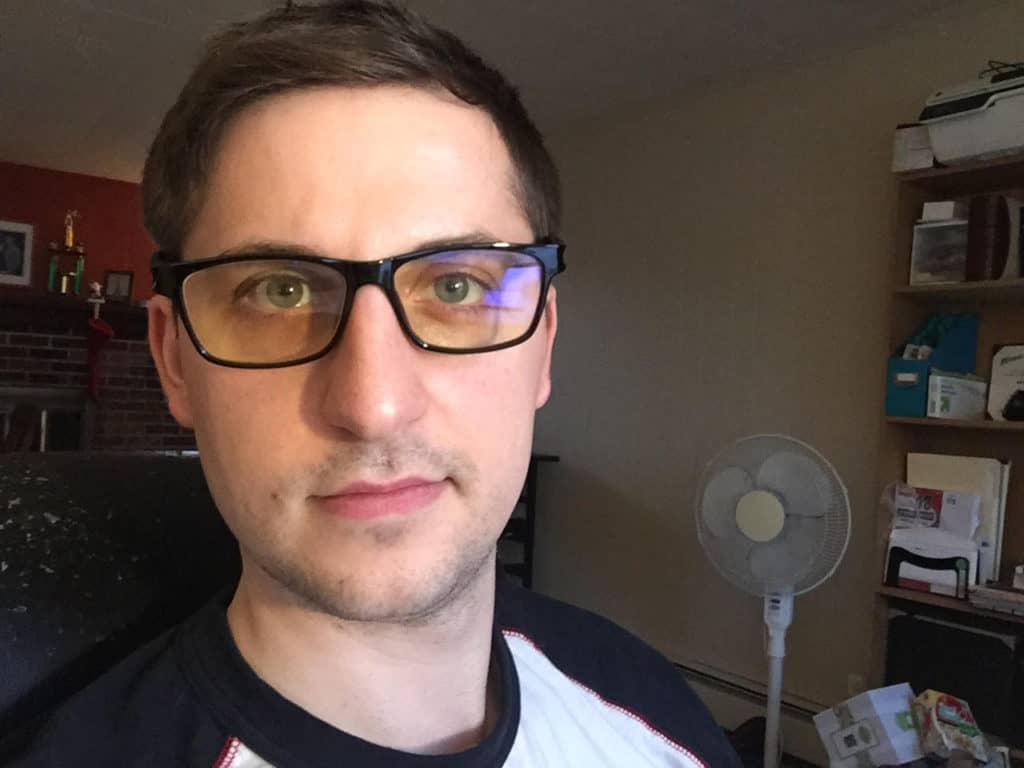 4. A Treehouse Subscription
Team Treehouse is the best platform to learn programming that I've ever used. That includes the classes I'm taking at University and the other courses I've tried. Unlike the intro Java class I'm taking at Purdue, I can watch these lessons anytime I want, pause them, rewind them or fast forward them. I have more control over how I learn. You can start a 7-day free trial by clicking the green ad to the right or you can get 4 months off a basic package when you purchase 1-year with this special link.
Treehouse: 4 Months Off Basic!
Also, the course is very well thought out, the lessons are very instructive and intuitive, and the quality of the videos and animations in the lessons is better than any other coding program I've seen. It's my #1 recommendation when learning a new language. Unfortunately, Treehouse doesn't have courses for every language out there, but they cover nearly everything.
5. A Calculator
If you major in Computer Science, you're going to need a calculator. At Purdue Northwest University, where I'm getting my bachelor's degree, I have to take Calculus 1, Calculus 2, Calculus 3, and Linear Algebra. There's no way I would be able to do it without my handy-dandy TI-84 Plus Graphing Calculator. You can check the price of this model on Amazon here:
Texas Instruments: TI-84 Plus CE (Black)
Mine is pink with cheetah print (kek) because it was a hand-me-down from my girlfriend, but this black one is cool too. Actually, it's really cool. Unlike mine, this calculator has colorful graphs and newer software. You can very easily solve for derivatives and integrals with this calculator, which comes in handy for Calculus. This is the only calculator you'll ever need. The TI-84 Plus CE is acceptable to use on the PSAT, SAT, ACT, and AP tests so there's also good resale value if you want to sell it after you graduate.
6. The New Hacker's Dictionary (Book)
At this point, the New Hacker's Dictionary isn't new. It was published in 1996 which when on the topic of Computer Science, is quite a long time. That said, while this book is not a necessity, there's so much good information in the book that's still relevant. It's also a fun and humorous read. You can check the price and the contents on Amazon here:
What drew me to the New Hackers Dictionary was simple. I wanted to speak the same language as those in my industry. Once I updated my vocabulary with common terms among professional programmers, developers, and engineers alike, I could make better sense of everything I'm currently learning. Also, greater communicative ability really helps when collaborating on projects.
7. Clean Code (Book)
Programming is a large part of the Computer Science curriculum. Whether it's Java, C#, C++, Python, or any other language, you have to learn at least one and often more. Clean Code: A Handbook of Agile Software Craftsmanship is the book that takes your skills to the next level. The authors poured their many years of experience into this book with the sole intention of making us into masters of programming. You can check out the current price and the contents on Amazon here:
Clean Code: A Handbook of Agile Software Craftsmanship
There is a big difference between clean code and sloppy, poorly written code. The difference can mean problems with expanding on code, meaning your projects could get stuck in the mud. It can also be the difference in a program's speed or encoding a few minor bugs without realizing it. If you want to write any significant program, clean code is a must.
8. The Pragmatic Programmer (Book)
While Clean Code focuses on the best techniques of programming, The Pragmatic Programmer focuses more on the best philosophy of programming. By this I mean the philosophy held by the top programmers in the industry. It's a philosophy that dictates one take responsibility for their failures and follow up with solutions. Because that's all a part of building programs. If at first, you don't succeed, try, try again. If you want to check it out, you can do so on Amazon here:
The Pragmatic Programmer: your journey to mastery
One of the first lessons of programming my professor taught us in Intro Java was the concept of DRY: Don't Repeat Yourself. Low and behold, that common theme of simplified code originates from this text. This book, along with those previously mentioned, are regarded as classics in the industry. They can guide you to your best career because they'll guide you to be your best self.
9. A Safe
You're probably thinking: "why in the world would I need a safe?" But hear me out. Maybe you're working on a secret project or document that you don't want anyone to come across. This might sound a little 'super-spy', but it's really not that unusual. Personally, I keep all my important login information on a .TXT file on a USB drive that I keep in my safe. You can check out the one that I have here from Amazon:
AmazonBasics Security Safe Box (0.5 Cubic Feet)
Besides, imagine all the money you're going to make once you graduate! You might want to keep some it on hand and there's no better place to keep money (besides a secure, high-yield, short-term investment, or like… an actual bank) than in a safe. This one is the same size as mine, which is perfect because it doesn't take up too much room or stand out too much. Yet there's still plenty of room for the things I want to keep secure and private.
10. Multiple USB Flash Drives
I don't think this needs too much explanation. There will be times when you need to save and transfer a file and a USB Flash Drive is still among the best, most convenient ways to do that. Also, hard storage will always be the most private and secure way to store data, apposed to email or the cloud. This 5-pack of 64GB USB Drives comes in a multi-color or single-color pack. Check out the specs on Amazon here:
mosDART: 5x 64GB USB 2.0 Multicolor Flash Drives
11. A Home Gym
I don't want to be that guy that reminds you of the importance of staying active when leading a sedentary lifestyle, however, it must be said. Trust me, I don't want to exercise (and most of the time I don't), but I should. And so should you unless advised otherwise by a physician.
Prosource Fit: Multi-Grip Pull-Up Bar
In most cases, there's a gym on the University campus that you'll have access to as a student. If that's the case, they'll have everything you need. However, if for some reason they don't, or if you prefer to workout by yourself, you can check this home gym. With this, you can do pull-ups, chin-ups, push-ups, and even sit-ups and leg raises for your core. Calisthenics and cardio are all you really need to stay fit and healthy. This is the best home gym for the cost. Check out the current price on Amazon with the link above.
12. Headphones
When it comes to concentrating on an assignment, nothing cuts through all the distractions like a good set of noise-canceling headphones. I'm still using the old set my brother got me for Christmas a few years ago, but if I were to get new ones, these are the ones I would buy. Not only do these Bluetooth Cowin E7's have a 30-hour battery life, but they're also comfortable enough to wear all day. Check them out on Amazon here:
COWIN: E7 Noise-Cancelling Bluetooth Headphones
Unlike some other headphones, these won't cost an arm and a leg. They also come equipped with a microphone so you can use them to game or to take calls.
13. A New Router – Speed up you WiFi
As a Computer Science student, you'll learn all about networks. The first network you should familiarize yourself with is your home network. This is the best gear to do just that. You can also speed up your connection at the same time. Also, if you're majoring in Computer Science, there's going to be a heavy workload. If you have an old router, your WIFI connection might be lacking. You might be surprised at just how much quicker all your devices operate when you upgrade your router. This is a top-selling router on Amazon and very highly rated. Check it out here:
TP-Link: AC1750 Smart WIFI Router
This means fewer delays in completing assignments and let's be honest, it also means better streaming. We all need to relax and unwind sometimes. How you decide to do that is your business, but whatever it is, your connection shouldn't be slowing you down.
14. Dual Monitors
This is one of those things that just makes life so much better. When you're programming or doing anything else that requires task switching, dual-monitors are a gift from the Gods. I haven't made the leap to get a second one at home, but it's on my Christmas List. If you're going to have a dual-monitor setup, it's nice to have two of the same kind. This is the monitor that I have and it would be perfect as a set of two. You can check the price out here on Amazon:
Asus: VS228H-P 21.5″ HD 1920×1080 LED Monitor
There are plenty of monitors to choose from, but this is the perfect size screen to double-up on. It has a good picture quality, vibrant color, and has never given me issues to date. Also, this monitor is mountable, which means that with a proper dual-monitor stand, you'll have a beautiful, functional workplace.
15. A Proper Dual-Monitor Stand
Having a proper dual-monitor stand will really transform your work area. It free's up so much space on your desk, while also allowing you to position your monitors however you like. You can lower them, raise them, tilt them, or spin them. This is the perfect stand for the Asus monitor above. They're compatible with what's called a VESA mounting type. You can check it out with this link to Amazon:
VIVO: Dual-Monitor Desk Mount Stand
EDIT: Since writing this I finally purchased this product specifically, as well as a second monitor. I can't tell you how much better I feel in this space and how much more efficient I am.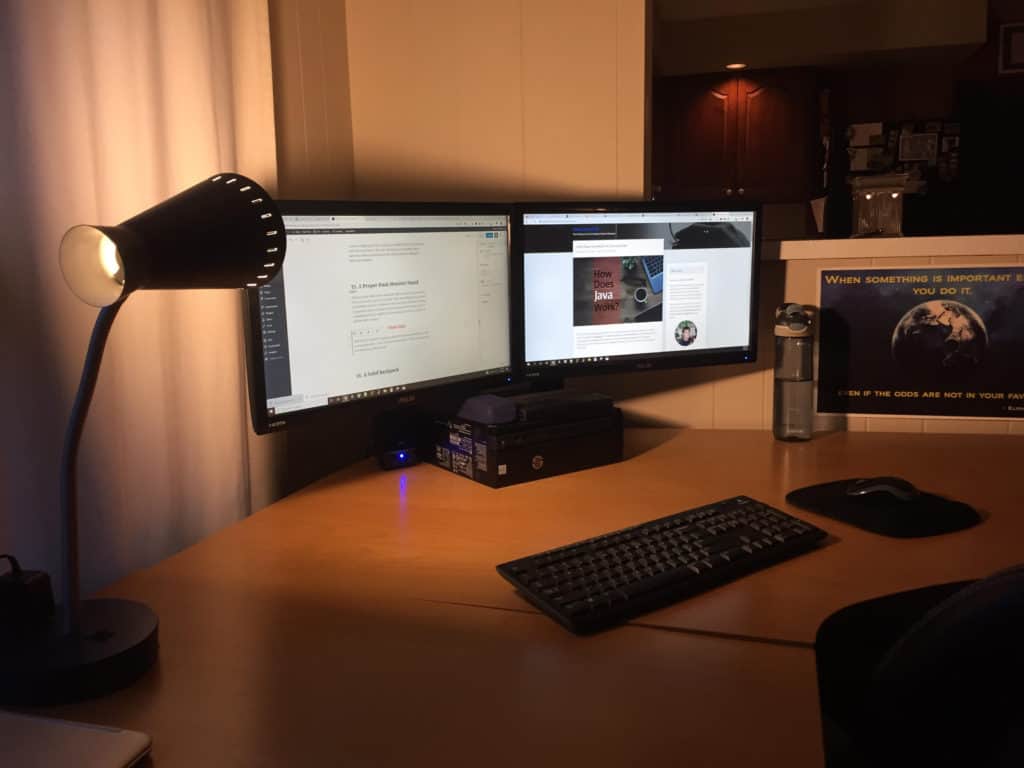 16. A Solid Backpack
When I bought my backpack, I made the mistake of picking one that ended up being just a little small. Most of my textbooks are in e-book format and I still have trouble with space. Don't make the same mistake I did. This Swiss Gear backpack is the best out there and big enough to fit everything you need, including your water bottle and some snacks to get you through the day. Check it out the reviews on Amazon here:
Swiss Gear: 1900 Scansmart Laptop Backpack
There are different colors to choose from but I'm a fan of the black one. Not only is this big enough to hold up to a 17″ laptop and all the snacks you need, but it also has pockets, pouches, and compartments for all your school supplies. Plus, it's TSA and travel-friendly so it can double as a travel bag.
17. A Power Bank
I'm sure you've experienced the panic of your phone running out of battery mid-day. It's not fun. Most people would like to avoid this at all costs. Luckily, there's a very easy and inexpensive way to achieve this. Keeping a power bank in your backpack for such occasions is the best way. With a power bank, you can charge your devices anywhere without the need of an outlet. This is the exact one that I have. Check it out on Amazon for the current price and specs.
This small battery stays out of the way when you don't need it, and works magic when you do. I've used this so many times. It really is a lifesaver. And this charges my phone several times over before the PowerCore itself needs to be recharged. This is must-have computer science gear for every student.
18. An External Hard Drive
Sometimes you want to store a file(s) or program and a USB Flash Drive just won't cut it. For mass quantities of files such as digital photo albums, libraries of music, or movies, an external hard drive is what you'll need. As a Computer Science student, you want to make the most of your laptop. That means not slowing it down with all the Marvel movies and anime that the internet graciously serves up. This one is cheap, reliable, relatively small, and can hold all the extras that shouldn't take up room on your laptop/pc.
Seagate: Portable External 4TB Hard Drive
This Seagate model is compatible with Mac and Windows. Also, it has 4 Terabytes of storage, which means you can store roughly 1,000,000 songs.
19. A Fire Tablet
I always opt for the electronic version of any textbook if that option is available. I prefer not to have to carry 3-4 large textbooks on top of all the notebooks, folders, and other supplies in my backpack. I streamline when possible. The Amazon Fire Tablet allows me this opportunity to streamline. Not only do I keep all of my e-books on my Fire tablet, but it's also great for when I want to take a break. You can check out the Fire HD 10 on Amazon here:
Amazon: Fire HD 10 Tablet (32GB, 10.1″)
The crisp color and 1080p HD display make your study break really enjoyable. You can watch your favorite show on Netflix or Hulu, browse YouTube, or play one of the thousands of games you download on the app store. This is by far one of the most budget-friendly tablets on the market and it makes for the perfect study companion.
20. Raspberry Pi Kit
With a Raspberry Pi, you can mix it up with software and hardware. The Raspberry Pi is a super-small, super-inexpensive computer that's programmed using the Python programming language. That means you need to learn Python to develop programs on it. It just so happens that Python is among the top three most popular programming languages in the world right now, even beating out Java.
CanaKit: Raspberry Pi 3 Starter Kit (32 GB)
Many Universities, realizing the growing popularity of the language, have started teaching Python over more difficult languages like C++ and Java. Whether you learn it at part of your curriculum or whether you take it upon yourself to learn, it's good to have on your resume. The best way to learn is by getting hands-on with one of the thousands of Raspberry Pi projects on the internet.
---
Related Articles
---